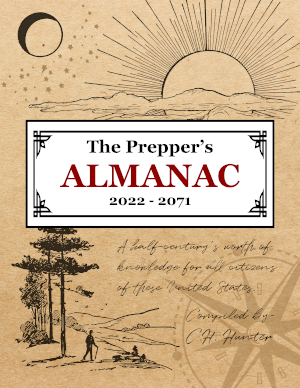 How many liters are in a gallon? How many miles are in 70 kilometers? What time will the sun rise next Thursday? When is the next lunar eclipse? How long will the food items in my cupboard remain good to eat? On which day of the week does Christmas fall next year? All of these are valid and common questions you may ask on a regular basis, but they are questions that the average person doesn't know the answer to off the top of their head. How can you find the answer? The easy and obvious way is to Google it. But what if the internet was not available? What if there was a widespread power or internet outage that lasted for weeks or months?
"A farmer's almanac on steroids!"
The purpose of this book is not to be an in-depth how-to guide for any particular topic, but to be a database of facts that can be referenced in the absence of the internet to answer those valid and common questions proposed above. If the internet goes down, or if you just want to know what time the sun will rise at your off-grid cabin where you have no internet service, this book is a resource that can be used for years to come. Keep a copy on the shelf just in case.
Contains 50 years worth of:
Calendars
Sunrise & sunset times
Moonrise & moonset times
Moon phases
Solar & lunar eclipses
...for 326 localities in the US!
Also contains:
Common measurements & conversion tables
Food preparation & storage info
Farming & gardening info
Health & Medicine
Communications
Navigation
Ballistics Charts
...and more!
Printable Companion Materials: